sunlight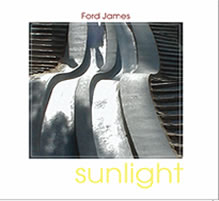 My second studio CD release (2002) - very similar in style to "This One Moment".

Ford James: Bass, Guitars, Piano, Keyboards, Percussion
Robert Cohen: Piano
Wayne Norlund: Soprano Sax
Andy Engstrom: Drums
Mike Fieldhouse: Congas
Dale McFarland: djembe
Rick Alberico: Flute

Composed, Produced, Arranged and Mixed by Ford James
Mastered by Ford James and Mark Alton at Gold Street Studios, Juneau , Alaska
Drums recorded by Ford James and Andy Engstrom Volitar Studios, Juneau, Alaska

All tracks are available for streaming or mp3 download (right click directly over "(mp3)" and save as) below free of charge FOR PERSONAL USE ONLY - no commercial use permitted (thanks). If you would like a higher quality CD version please contact me and make a donation of $5 or more to cover shipping and handling and I will send you one for FREE...